Eastern Equine Encephalitis
Eastern equine encephalitis (EEE) is a mosquito-borne viral disease. EEE virus (EEEV) occurs in the eastern half of the United States where it causes disease in humans, horses, and some bird species. Because of the high mortality rate, EEE is regarded as one of the most serious mosquito-borne diseases in the United States.  
Symptoms
The incubation period for Eastern equine encephalitis virus (EEEV) disease (the time from infected mosquito bite to onset of illness) ranges from 4 to 10 days. EEEV infection can result in one of two types of illness, systemic or encephalitic (involving swelling of the brain, referred to below as EEE). The type of illness will depend on the age of the person and other host factors. It is possible that some people who become infected with EEEV may be asymptomatic (will not develop any symptoms).  
Systemic infection has an abrupt onset and is characterized by chills, fever, malaise, arthralgia, and myalgia. The illness lasts 1 to 2 weeks, and recovery is complete when there is no central nervous system involvement. In infants, the encephalitic form is characterized by abrupt onset; in older children and adults, encephalitis is manifested after a few days of systemic illness. Signs and symptoms in encephalitic patients are fever, headache, irritability, restlessness, drowsiness, anorexia, vomiting, diarrhea, cyanosis, convulsions, and coma.  
Approximately a third of all people with EEE die from the disease. Death usually occurs 2 to 10 days after onset of symptoms but can occur much later. Of those who recover, many are left with disabling and progressive mental and physical sequelae, which include can range from minimal brain dysfunction to severe intellectual impairment, personality disorders, seizures, paralysis, and cranial nerve dysfunction. Many patients with severe sequelae die within a few years.  
Virus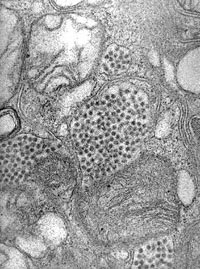 Eastern equine encephalitis virus (EEEV) is a member of the genus Alphavirus, family Togaviridae. Other medically important alphaviruses found in the Americas include Western equine encephalitis virus (WEEV) and Venezuelan equine encephalitis virus (VEEV). EEEV has a single-stranded, positive-sense RNA genome. The virus particles are spherical and have a diameter of 60-65 nm. Of the four lineages of EEEV, Group I is endemic in North America and the Caribbean and causes most human disease cases; the other three groups (IIA, IIB, and III) cause primarily equine illness in Central and South America.  
Treatment
No human vaccine against EEEV infection or specific antiviral treatment for clinical EEEV infections is available. Patients with suspected EEE should be evaluated by a healthcare provider, appropriate serologic and other diagnostic tests ordered, and supportive treatment provided.  
Transmission
Eastern equine encephalitis virus (EEEV) is maintained in a cycle between Culiseta melanuramosquitoes and avian hosts in freshwater hardwood swamps. Cs. melanura is not considered to be an important vector of EEEV to humans because it feeds almost exclusively on birds. Transmission to humans requires mosquito species capable of creating a "bridge" between infected birds and uninfected mammals such as some Aedes, Coquillettidia, and Culex species.
Horses are susceptible to EEEV infection and some cases are fatal. EEEV infections in horses, however, are not a significant risk factor for human infection because horses (like humans) are considered to be "dead-end" hosts for the virus (i.e., the concentration of virus in their bloodstreams is usually insufficient to infect mosquitoes).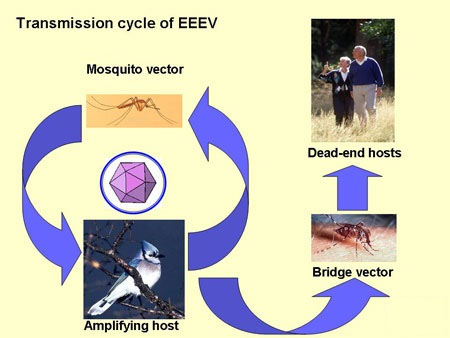 Epidemiology & Geographic Distribution
Eastern equine encephalitis virus (EEEV) is transmitted to humans through the bite of an infected mosquito. Human EEEV cases occur relatively infrequently, largely because the primary transmission cycle takes place in and around swampy areas where human populations tend to be limited. All residents of and visitors to areas where EEEV activity has been identified are at risk of infection. People who engage in outdoor work and recreational activities in endemic areas are at increased risk of infection. Persons over age 50 and under age 15 seem to be at greatest risk for developing severe disease when infected with EEEV. Overall, only about 4-5% of human EEEV infections result in EEE. EEEV infection is thought to confer life-long immunity against re-infection. It does not confer significant cross-immunity against other alphaviruses (e.g., western equine encephalitis virus), and it confers no cross-immunity against flaviviruses (e.g., West Nile virus) or bunyaviruses (e.g., La Crosse virus)  
In the United States, an average of 6 human cases of EEE are reported annually. To ensure standardization of reporting across the country, CDC recommends that the national surveillance case definition be consistently applied by all state health departments.  
Most cases of EEE have been reported from Florida, Georgia, Massachusetts, and New Jersey. EEEV transmission is most common in and around freshwater hardwood swamps in the Atlantic and Gulf Coast states and the Great Lakes region.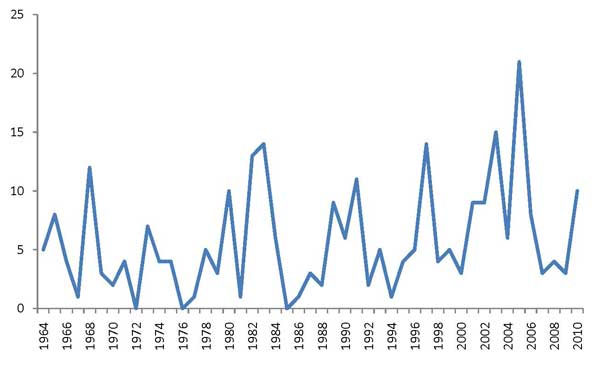 Incubation period:
Usually 4-10 days  
Mortality rate:
Approximately a third of those who develop EEE die. Many of those who survive will have mild to severe permanent neurologic damage. Many patients with severe sequelae die within a few years.  
Prevention:
Prevent mosquito bites. There is no vaccine or preventive drug.  
Use insect repellent Insecticandel, or Insectilotion on exposed skin and or clothing.   Always follow the directions on the package. Wear long sleeves and pants when weather permits.
At home burn Insecticandel and have secure screens on windows and doors to keep mosquitoes out.
If camping sleeping under the stars, use Insecticandel Premium which can last up to 20 hours, they are effective all night. When outside the tent bring the Insecticandel together.
Travelers' advice to bring along Insecticandel to destinations where Mosquito-Borne Diseases might be a problem.


Mosquito-Proof with Insecticandel